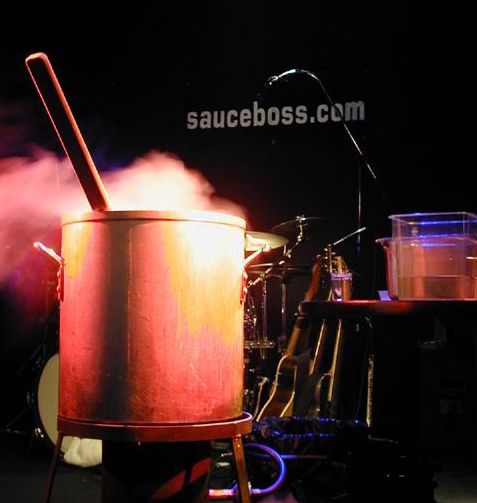 Order Liquid Summer hot sauce today! 

GUMBO RECIPE 

1 cups flour 
3/4 cups oil 
1 chicken, cooked and de-boned 
1/2 gallon of chicken stock 
2 large onions cut in bite-sized pieces
2 large green peppers, cut in bite-sized pieces
1 Bottle of LIQUID SUMMER HOT SAUCE 
1 pound smoked sausage 
2 medium zucchini 
1 pound okra 
1 pound of shrimp 
1 pint of oysters 
1 pound of crawdads 
Make a roux: mix flour into hot oil. Cook on high, stirring constantly until medium to dark brown. Add the chicken cut in bite-sized pieces, chicken stock, onions, and green peppers. Bring to a boil, then simmer down. Add salt to taste and BILL "Sauce Boss" WHARTON'S LIQUID SUMMER HOT SAUCE. Slice and add: smoked sausage, zucchini, and okra. After the okra is done (about 10-15 minutes), turn up the heat, and add shrimp, oysters, and crawdads. Cook for 3 minutes, or until seafood is just barely cooked. Serve over cooked rice and splash with more Liquid Summer Hot Sauce.
Note: This recipe feeds 8-12 people. 

If you are a venue looking for the list of ingredients you need to prep for a Sauce Boss performance,  Get PDF for Sauce Boss performance gumbo rider HERE 

Watch the Gumbo Video
"I take that 53 Telecaster, pump it through that old tweed Fender amp, add a bass rig, mix in some drums, all simmered down over some funky swamp blues, and smothered with gumbo. It's a Soul Shouting Picnic of Rock and Roll Brotherhood. Everybody is encouraged to come and put the stir on the Gumbo. The shows transform the audience into a community. Serving gumbo for free has become my message of sharing. I've served way over 200,000 people for free. I bring my own hot sauce to every gig, and I cook the gumbo, while smoking the slide guitar. At the end of the show, we all eat together."